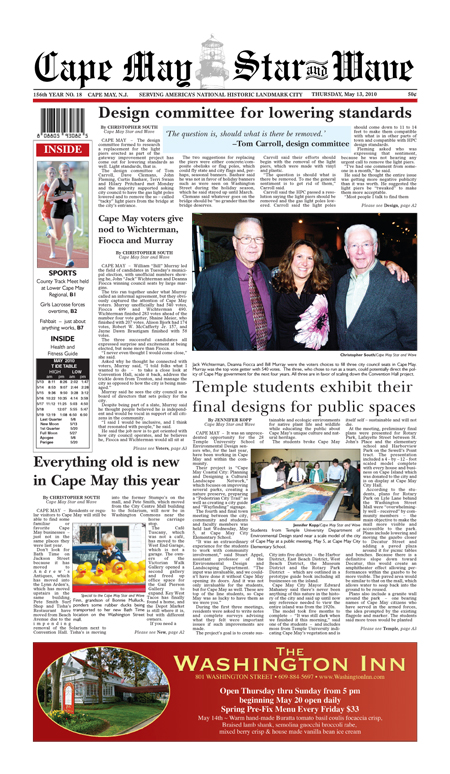 Everything old is new
in Cape May this year
I enjoy the Cape May Star and Wave but their website is not easy to navigate. Anyway, here's a nice story from this week's edition, which story includes a nice mention of one of our favorite CM journalists, Sue Tischler...
By CHRISTOPHER SOUTH
Cape May Star and Wave
CAPE MAY – Residents or regular
visitors to Cape May will still be
able to find some
familiar or
favorite Cape
May businesses –
just not in the
same places they
were last year.
Don't look for
Bath Time on
Jackson Street
because it has
moved to
A n d r e w ' s
Antiques, which
has moved into
the Lynn Arden's,
which has moved
upstairs in the
same building.
Pete Smith Surf
Shop and Tisha's
Restaurant have
moved from Beach
Avenue due to the
i m p e n d i n g
removal of the Solarium next to
Convention Hall. Tisha's is moving
into the former Stumpo's on the
mall, and Pete Smith, which moved
from the City Centre Mall building
to the Solarium, will now be in
Washington Commons near the
horse carriage
stop.
The Café
Tuscany, which
was not a café,
has moved to the
West End Garage,
which is not a
garage. The owners
of the
Victorian Walk
Gallery opened a
second gallery
and freed up
office space for
the Gail Pierson
Gallery to
expand. Key West
Tacos has finally
found a home, and
the Depot Market
is still where it is,
but with different
owners.
If you need a scorecard to keep track of all
the activity with Cape May
businesses, don't feel bad.
This kind of changeover has
not happened in a while.
"I haven't seen change like
this in the 30 years I've been
here," Susan Tischler of Just
For Laughs said.
Just for Laughs is a new
store Sue and Barry Tischler
opened next to their
Kaleidoscope store, which is
an eclectic collection of clothing,
jewelry, and bags and
hats. Just For Laughs is carrying
a line of gifts by "Blue
Q" and "Anne Taintor."
"It's humor for the literary
... and the literate," Tischler
said.
Tischler said they found out
the store next to them was
available, and with the economy
the way it was and the
slow winter they had, she
wanted a store that was "just
for laughs."
"People need a laugh,
everybody does," Tischler
said.
Tischler said they are hoping
to make Just For Laughs
more than just a retail store;
perhaps have some radio
shows broadcast from the
shop - perhaps something
akin to Garrison Keillor's
Prairie Home Companion.
Steve Rush from Andrew's
said his reason for relocating
was a little more mundane.
"The building was up for
sale," he said.
He wanted to be able to stay
near his old location and was
fortunate enough to move just
a half a block away. Lynn
Arden's Children's Shoppe
consolidated and moved
upstairs, making the first
floor available. Rush said the
new location is larger and has
a pleasant atmosphere, but he
is unsure what the future will
bring in the new location.
Dawn DeMayo, who with
her husband John has opened
the Gallery D'May, has a
good feeling about the future.
The DeMayos own the
Victorian Walk Gallery,
which is known for Thomas
Kincade's work, and have
located their new gallery next
to Cucina Rosa.
"We've been here 20 years,"
DeMayo said, "and we just
thought this was an ideal
location. It made a dream
come true."
She said the Gallery D'May
is a new concept gallery -
something they have been
thinking about doing for a
long time. She said everything
just fell into place and
they are changing with the
times.
"It's a good, positive thing,"
she said.
The new gallery has the
space to set up an office,
allowing the DeMayos to give
up their space next to the Gail
Pierson Gallery and allow her
to expand.
Bonnie Mullock has operated
Bath Time for 16 years and
has recently opened in the
former Andrew's Antiques
location. She said someone
else was in line to get the
store, but that deal fell
through and she had the
opportunity to more from
Jackson Street to the
Washington Street Mall near
the Whale's Tale.
"It became a spur of the
moment decision, and I've
always loved this store, so it
just felt right," she said.
Mullock said she is thrilled
to be located near the Whale's
Tale and across from
Morrow's Nut House, two
landmark stores on the
Washington Street Mall.
"I'm part of the BID
(Business Improvement
District) now," Mullock said.
"It's just nice to have a beautiful
storefront."
People who passed her store
on Jackson Street might have
noticed bathtubs full of yellow
ducks. Mullock said a
large porcelain tub was
wheeled down Jackson Street
on a dolly to the new location,
while a tin tub was put in the
back of a friend's SUV.
"And we never lost a duck,"
Mullock said.
Mullock said she has conducted
an informal survey
and found 60 percent of customers
have never heard of
her, despite being in business
for 16 years. The positive side
of that story is that she is getting
new customers.
As reported in previous stories
in the Star and Wave,
Hilary and Chuck Pritchard
of the Whale's Tale have
opened Splash, a fine gift
store with a shore theme. Key
West Tacos, which had been
selling non-traditional tacos
at outside events, such as the
West Cape May Farmers
Market (held Tuesday's all
summer long), has found a
permanent home next to
Higher Grounds Coffee Shop
on West Perry Street.
The Copper Fish, previously
located across from South
Jersey Marina, has moved to
the former Moonfish Grill
(formerly Daniel's) on
Broadway in West Cape May.
The Depot Market, was also
featured in a story in the May
6 edition of the Star and
Wave. Chris Shriver, who is
married to the executive chef
at the Mad Batter, Lisa
Shriver, has taken over the
Depot Market and plans to
maintain what has become a
favorite menu with locals and
visitors alike.